A family story
Vine growing and wine making is a family tradition dating back to the early 20th century, when our grand-parents left Switzerland where they were born, to set up in the South West of France. They planted their first vines there, and became producers of good quality wines and Armagnac.
The following generation (our parents) moved to the Gironde department and set up on a lovely estate of 30 hectares overhanging the Dropt River

The property is located, between two main rivers (Garonne and Dordogne), 80 km south east from Bordeaux. Chantal and Eric, their children, have inherited this passion and carry on today the family wine producing tradition.
Merlot is the main grape variety on our estate, but Cabernet Franc, Cabernet Sauvignon, Malbec, and more recently Petit Verdot are also present.
This diversity is very interesting ; it makes it possible to prepare various blends for our Bordeaux and Bordeaux Supérieur wine range.
Grape varieties
46 % Merlot
12 % Cabernet Franc
19 % Cabernet Sauvignon
16 % Malbec
7 % Petit Verdot
Production
Bordeaux rosé
Bordeaux rouge
Bordeaux Supérieur
The estate is located on the major ecological spot
On our property, nature lovers will find vines of course, but also grassland, hills, wood and rivulets. This particular environment is quite favourable to an outstanding biodiversity which we of course endeavour to protect.
A dozen of wild orchids flower from March to July on the chalky outcrops next to the vineyard.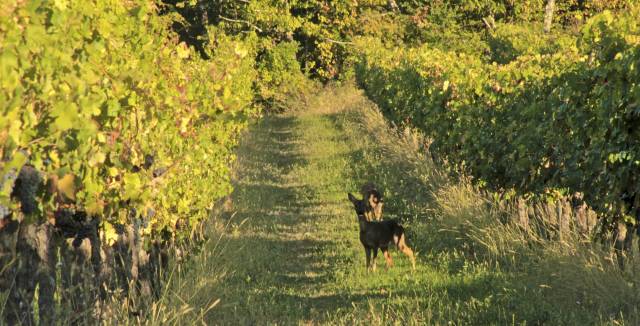 The estate is part of a major ecological site (Natura 2000 network of protected areas). Some rear species can be spotted such as Oxygastra curtisii and Coenagrion mercuriale, two dragonflies breeding on the Dropt River and living in the vineyard.ü A small butterfly, Maculinea arion, flies from May to August among the wild orchids.